Our recognizable and unified POS design across our group
Retail has and always will be at the core of our business. Not only to stage our products and services in an exciting environment, but also to create an innovative customer experience whilst driving our digitalization. 
Our Approach.
How we sell and service.
The framework for our decisions
10 Retail Guiding Principles
We think omni-channel offering each customer a seamless experience across all ­customer-relevant touchpoints.
We communicate preferably as personalized and relevant as possible (exactly the products that match customers' lifestyles and application areas).
We focus on building long-lasting and valuable customer relationships.
We will only use the latest technologies if these drive revenue, improve the customer experience or make work more efficient.
We offer an emotional customer experience (e.g. Look & Feel) across all channels.
We will try to simplify things for our customers and fellow employees.
We internalize and fulfill our brand promise of high quality along all customerfacing touchpoints.
We act as a convergent player offering a broad portfolio of different products and services across all channels.
We always base our decision-making on facts and thorough analysis and test and learn before we scale.
We strive to improve sales efficiency and productivity internally and externally everyday.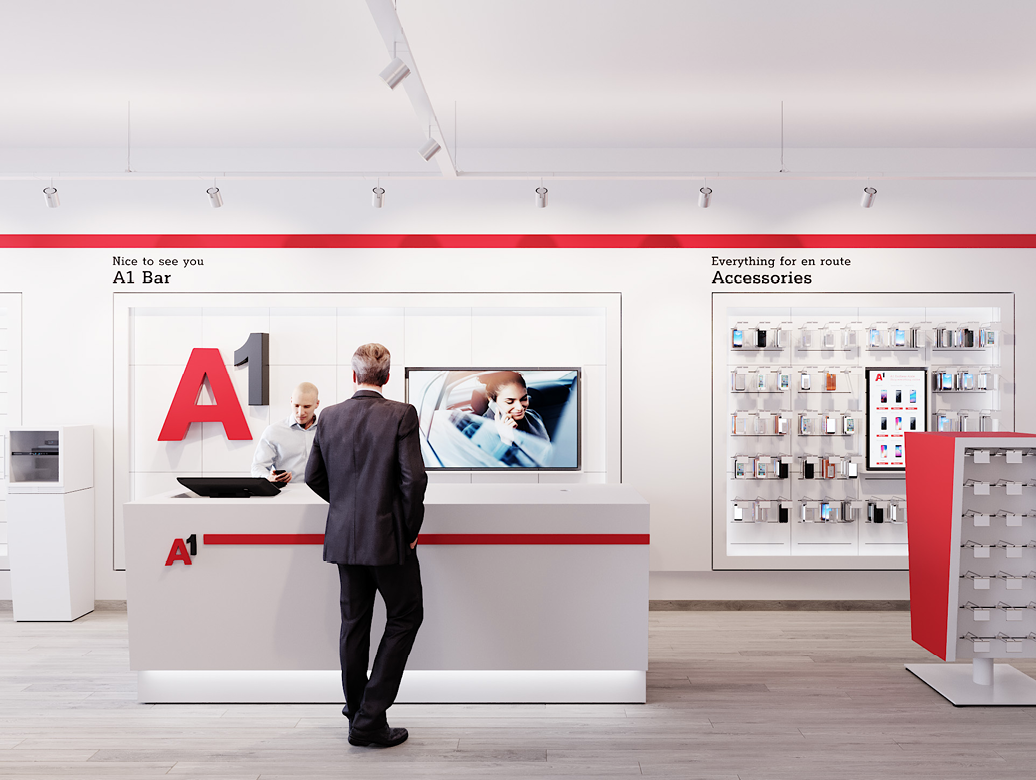 Our brand character and tonality
and what this means at the POS
Modern architecture + design (atmosphere & functionality)
Digitalization
Try-out-Desks, Lift & Learn

Smart Home
Employees
Products/Services
Colour & Light (Light Archetype: Day)
Moodimages
Digital Signage
Try-out-Desks, Lift & Learn
Kids Corner
Easy orientation through POS layout, zoning, color/light and signposts
Clear views and ways
Waiting management
Employees
Products/Services
Regionality in mood images
Proximity to customers (Consulting Desks): standig across corner/side by side, not vis-à-vis
Personalization
For A1 employees and accredited partners only …