A1 becomes international
With A1 going international, we write a little bit of company history. We need to make sure, that our brand develops in a strong and consistent way – to our customers and to our employees.
This is our clear objective with the brand. Everybody who is working with this brand plays an important role in achieving this success. Therefore, it is important that you know the brand, understand it and are inspired by it.
Empowering digital life.
Life in a digital age confronts us with complete new challenges. Digital technology offers fascinating new possibilities, enrich our daily life, but make it more complex as well.
Brands became even more important: they offer orientation, they create identity, transparency and simplicity. At each interaction and each touchpoint. A good end-to-end customer experience decides about sustainable success.
Building the brand across all customer interactions and touchpoints.
Core products and propositionsHow might brand inspire or impact core products and propositions?
CommunicationHow might brand inspire communication that delivers the brand promise rather than just announcing it?
Added value servicesHow might brand inspire or influence additional services to enhance the value around consumption or usage of the core offer?
Customer journey expierenceHow might brand inspire a smoother, more pleasant customer experience throughout the complete customer journey?
Our guiding principles
To execute our strategy we follow in the complete A1 Group our internal guiding principles in all activities:
A brand for the life in a digital age has to excel in all areas of customer experience.
A brand for the digital age has to excel in all areas of customer experience.
Services and platforms
Customer service
Internally
Stories
Channels
Propositions
1. Povezovanje ljudi, prostorov in stvari
V dobi povezovanja vsega – ljudi, predmetov in prostorov – stremimo k redefiniciji pomena povezanosti in k oblikovanju nenehno razvijajočega se sveta možnosti in izkušenj.
2. Rešitve, ki bogatijo življenje v digitalni dobi
Zavezani smo k dostavljanju smislenih rešitev, ki odgovarjajo trenutnim in nastajajočim potrebam naših potrošnikov, tako da le-ti lahko izkusijo delo, zabavo, ustvarjanje in deljenje na bolj povezan način in tako kot sami želijo.
3. Dostavljanje popolne uporabniške izkušnje
Celovita (end-to-end) potrošniška izkušnja je potovanje, pri katerem stremimo k dostavljanju brezhibnih storitev in uporabniških izkušenj ob vsaki interakciji. Zavezani smo k uporabi našega znanja za predvidevanje potreb potrošnikov, lajšanje interakcij, medtem ko odstranjujemo problematične točke in kompleksnosti.
Our three brand pillars are:
Connecting people, places and things
Solution that enrich life in the digital age
Delivering a total customer experience
Connecting people, places and things to enrich the experience of work, life and play.
From Tariff plans and bundles to ideas, games, entertainment. From solutions for a smart home to M2M and cloud solutions for your business.
Connecting people, places and things to enrich the experience of work, life and play.
Productivity tools, Connected workforce, Collaboration resources, ICT solutions , Data and information security, Support, inspiration and ideas through content.
Connecting people, places and things to enrich the experience of work, life and play.
Entertainment and content, Personal productivity and life management tools, Learning platforms, e-Gaming just for fun, Health and wellness platforms.
Forward looking
We are curious about people, the world and technologies to move us all forward. We aim to be a step ahead. We are aiming for thought leadership.
Attentive
We care for our customers. We are observant and perceptive about needs and expectations to deliver additional benefits through meaningful innovation. So we get desirable.
Full of Life
We live in times, full of potential and possibility. We convey a positive spirit, a contagious energy and a refreshing 'can do' approach to life, work and play. We are energetic.
Reliable
As our services become a more indispensable part of life, we strive to be someone who our customers can trust and confidently rely on to deliver what we promise.
This is how we want to be perceived by customers and society.
Forward looking
Attentive
Shape the experience
YOU want to live.
Experience is the new luxury, surpassing ownership as an aspiration.
Digitalization has simply enabled us to experience more, online and offline.
Customers want and do experience work, play, creating, and sharing in a more connected way, on their own terms.
Experience is memorable and it's what people talk about.
Our brand - distinctive and playful
Six basic elements provide a unique "look and feel" across all A1 communication. It is important that each of these elements is consistently used.
The six basic elements to provide a unique "look and feel" across all A1 communication.
Logo system
Colors
Typography
Image style
Design Principles
Sound and Motion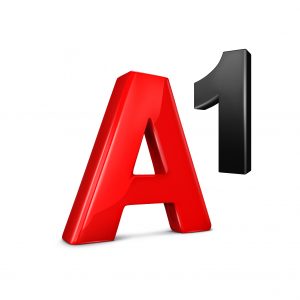 Welcome to our great brand. Only together we can make it a success!